July 25, 2023
Bull Moose Marketing's Ron Mattocks Named to Board of PA Downtown Center
written by Paige Schamberg
Meadville, Pa. — July 17, 2023  Bull Moose Marketing is thrilled to announce that company Owner and Vice President of Strategy, Ron Mattocks, has been appointed to the Board of Directors for the PA Downtown Center. This appointment serves as a testament to the agency's industry expertise and dedication to community revitalization.
The PA Downtown Center is the only statewide nonprofit organization solely dedicated to the revitalization and preservation of Pennsylvania's downtowns and commercial districts. By fostering collaboration and providing resources through the National Main Street Center®, the organization plays a crucial role in driving economic growth and cultivating vibrant urban centers in communities across the state.
"I am honored to be appointed to the Board," said Mattocks. "Vibrant downtowns are the lifeblood of a community, and I am excited to contribute to the PDC's efforts. I'm eager to be part of an organization respected for its work to foster economic growth, strengthen local businesses, and create spaces that residents and visitors can be proud of."
The PA Downtown Center's 19-member Board is composed of current and former downtown and/or neighborhood revitalization managers, as well as a variety of individuals possessing an interest in or experience with downtown and neighborhood revitalization.
Drawing from his experience in destination marketing, heritage tourism, historic conservation, community development, and strategic planning, Mattocks brings a broad mix of perspectives that will lend to the PDC and Board's value as he represents the region. His desire to help make communities better places to work and live through innovative destination marketing strategies aligns perfectly with the organization's mission.
Founded in Meadville, PA in 2017, Bull Moose Marketing is a veteran-owned agency offering brand strategies, marketing services and website development to destination marketing organizations and economic development entities looking to deliver on their brand promise and improve their local economies through actionable marketing. You can learn more about Bull Moose and their previous work at www.bullmoosemarketing.com.
The Pennsylvania Downtown Center is the only statewide nonprofit dedicated to the revitalization of the commonwealth's communities. The PDC provides assistance, resources and education for community leaders and local nonprofit organizations to help them build strong business districts and residential neighborhoods in their regions. To learn more about the PA Downtown Center contact Executive Director, Julie Fitzpatrick, at juliefitzpatrick@padowntown.org or visit their website at padowntown.org.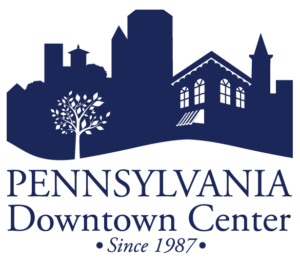 For additional information contact:
Paige Schamberg, Brand Development Manager
Bull Moose Marketing
Phone: 814.813.1312
Email: pschamberg@bullmoosemarketing.com