Our

Company
Bull Moose Marketing offers integrated marketing strategies, services, and website development to organizations that recognize a need for marketing in order to grow, but lack the internal resources and know-how to do so.
Our knowledgeable team and demonstrated expertise in tourism and manufacturing allows us to be a consultative partner who can develop well-informed plans that we then help those in these industries put into motion so they can see marketing's real value through economic impact, business growth, and other measurable outcomes.
We believe that this informed, results-oriented approach to marketing is how to earn a client's trust.
Why we exist
Our company mission is to make communities better places to work and live.
This was the vision of Ron Mattocks and Josh Sherretts when they founded Bull Moose Marketing in 2017. Looking at their hometown in Northwest Pennsylvania, the two recognized how marketing could have a positive economic impact for those working and living in rural areas, and since then, that vision has been realized through the results clients tourism and manufacturing industries have seen from our strategies and services.
But our mission to improve rural economies extends beyond just client successes. Bull Moose also is a source of brain gain for the area, offering skilled professionals the opportunity to solve complex marketing challenges for clients nationwide without needing to sacrifice what they enjoy about living in a small town. Since opening, we have grown, employing nearly 15 people from its offices at the historic Crawford County Trust Building in downtown Meadville, Pennsylvania.
Today, we are leveraging our knowledge and experience to become nationally recognized as experts in marketing strategies and services for heritage tourism and economic development entities.
People often ask us how we came up with our agency's name, and we are delighted to tell them.
Both Ron and Josh are American history enthusiasts with a shared interest in the early 1900s. Known as the Progressive Era, it marked a time when industrialization and other advances were rapidly changing our country's way of life, and "Progressives" relied on logic, science, and new technologies to challenge the status quo.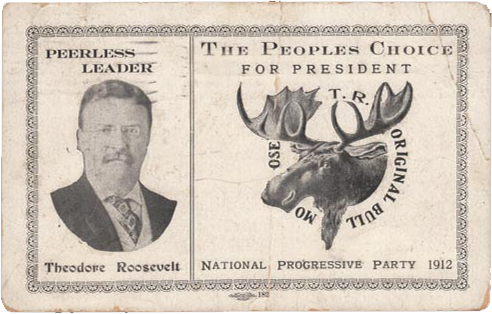 Arguably, this era's most prolific figure was our country's 26th President, Theodore Roosevelt. Using his bully pulpit, Roosevelt affected change for the better in his efforts to ensure people got a "square deal." While campaigning as the Progressive Party's candidate during the 1912 presidential race, Roosevelt was shot by an assassin.
Despite being wounded, though, Roosevelt spent the next few hours delivering a speech before finally agreeing to medical attention. Asked the next day how he felt, Roosevelt exclaimed. "I feel as strong as a bull moose!" The name stuck, hence Roosevelt and his progressive supporters would forever be associated with the Bull Moose Party.
As with the Progressive Era, new innovations and technologies are rapidly changing today's world, and while such change can be confusing and frustrating, it can't be ignored. The world of marketing is no different. Drawing our inspiration from Teddy Roosevelt's example, our agency wants to ensure that every client gets a square deal in the form of smart strategies and expertise that directly contributes to achieving their goals. That is why we are Bull Moose Marketing.
"People don't care how much you know until they know how much you care."
Theodore Roosevelt
How we operate
Bull Moose provides the most value when we function as a true partner in helping our clients develop and implement recommended strategies.
As a true partner, we offer a level of transparency uncommon with many agencies. Our clients never have to wonder about what's going on with their marketing as we establish clear work priorities and maintain regular communication. What's more, we hold ourselves accountable through performance reporting and by educating stakeholders to understand the value behind our efforts.
For all of our client engagements, there are three pillars that define who we are and aid in the overall value we can offer.
Pillar 1
Having a Plan
We believe successful marketing is contingent upon having a clear, actionable plan that is tied to big-picture goals in intended outcomes.
Pillar 2
Being a Consultative Partner
We empower our clients to make informed business decisions by being a transparent partner that is educational and consultative as we work together.
Pillar 3
Measuring Performance
We recognize that trust comes from accountability and accountability means demonstrating our strategies are effective through measurable performance.
Affiliations Certifications