Is Your Destination on the Map? Google Business Profiles for DMOs
We're aware of the power Google has to help potential visitors find your destination. What really illustrates what your destination has to offer, however, are the individual Google Business Profiles (formally known as Google My Business listings) of your amenities, businesses and attractions. Not only is it a benefit to each business and attraction, but it will also grow your entire area's online reach. The best part is that a high-quality Google Business Profile can boost your area's listings organically – no paid promotion involved. Continue reading to learn how to make Google Business Profile an asset to your destination and amenities.
"Things to do in Your Town, USA"
Let's start with the basics – what is a Google Business Profile? When you search for entities or locations in Google, the listing or listings that appear on the right-hand side are the Google Business Profiles. Businesses can claim their listings to add important information, upload pictures and make posts about their upcoming events. For information about creating and managing GBP listings, check out this page from Google. You can also check out this presentation to learn more about why GBP is valuable to your business.
Chances are, when you've searched for a location near you in the past, you've used the information in Google Business Profiles to get the information you need or scope out your options and inform your decision as a consumer. What you value as a customer is exactly what business and amenity owners should focus on while creating their listings.
The most successful Google Business Profiles are those that contain detailed and clear information about the business or amenity, including correct contact information, hours of operation and a specific listing category, i.e. "tour operator." Eye-catching listings will also include pictures of the location and offerings, posts about current or upcoming promotions and even a built-in call-to-action, i.e. "reserve a table." Google is among the top two review platforms, meaning that using GBP to collect positive reviews will give your area's amenities and businesses a serious edge. Approximately 63% consumers consult reviews before making a purchase, according to ReviewTrackers. Don't let your stakeholders miss out on the opportunity to catch their eye. You can check out this slide presentation to learn more about GBP and its value to your business.
Looking to revamp your social media strategy? An influencer might be your ticket to attracting more visitors. Watch our webinar to learn how you can effectively add influencers to your heritage tourism marketing strategy.
Global Searchers and Local Answers – Here's How
A common misconception among DMOs and tourism bureaus is that GBP only has value for local searchers. In reality, your area and its amenities can be found by searchers from all over the world and even be listed above paid competitors – if optimized correctly.
Consider this scenario: you're searching for things to do at your destination and a cool attraction catches your eye at the top of the results. "Awesome!" Until you look a little closer and see that this amenity is actually an hour or more away. In this case, local amenities have been beaten out in organic and paid rankings. You might ask yourself, "why don't I just go there instead?" Notice the sample search below, 2 of the 3 top results are outside of Charlottesville proper. This is what we can avoid by ensuring your area's offerings are clearly listed and rank highly.
Whether a user is searching from across the world or around the block, make sure the results lead them to your community, not another.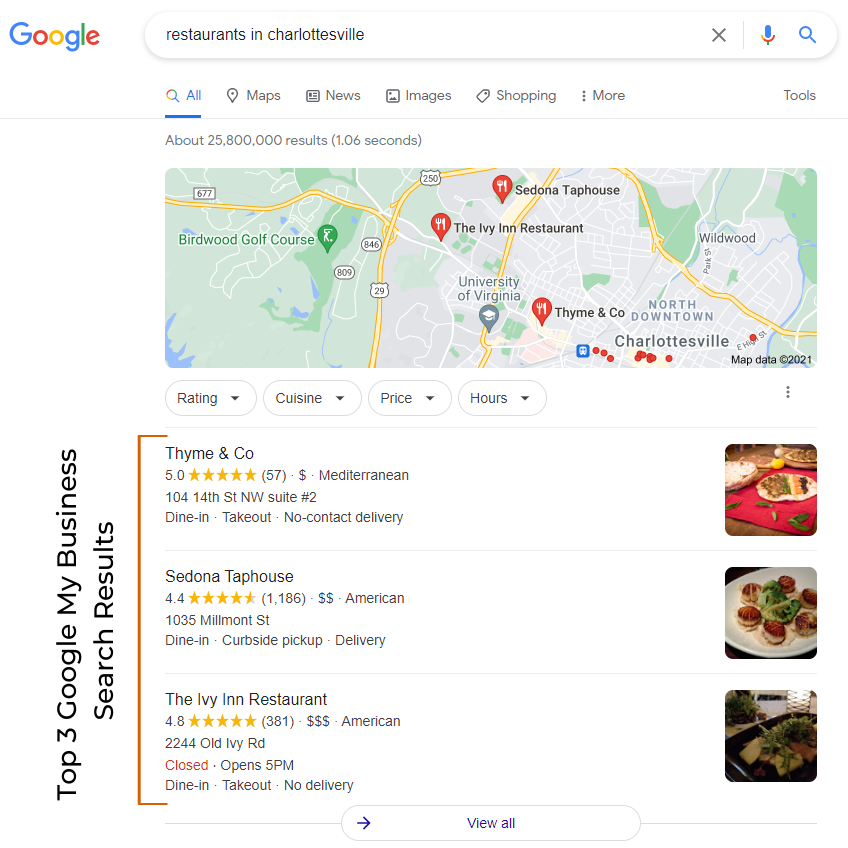 All of the information above is key to creating a good user experience for potential visitors, but it's also important to create a Google Business Profile that will rank highly in search results. Typically, a successful listing is one that appears in the top three search results. There are two categories that determine this ranking:
Organic value – The most important component of any listing. Google determines the value of each listing based on how closely the description matches what users are searching for and how often users have engaged with the listing as a result. Positive reviews also signal the legitimacy and quality of your listing to Google and can improve ranking results. 
Listing geography – Where the listing is located relative to the location named by the searcher. 
Listing geography is where your area and amenities have a built-in advantage. While large, well-funded entities can use their resources on paid promotion and organic search, small, local amenities can still stay ahead of the curve with listing geography. Your attraction's proximity to the search query will place it higher in search results, but you should still make efforts to optimize your listing to take full advantage of this opportunity. Don't let your amenities and attractions miss out; arm your stakeholders with information to make them successful.
Jumpstart Funding
We put together the Ultimate Guide to Funding for DMOs
Collect All the Puzzle Pieces
That said — buy-in from local stakeholders is key. Unclaimed and partial GBP profiles hurt individual businesses, but also make it difficult for non-local users to get a holistic picture of your destination's businesses and experiences. As we know, promoting your entire area over a single amenity is the most savvy strategy for bringing varied audiences to your area. Consider your own preferences when you're planning a vacation; you want to be sure there will be enough to fill your days and satisfy your entire party's preferences. Not to mention, offering a packed itinerary is more likely to bring overnight travelers and hotel bed tax dollars.
So as a DMO or tourism-related entity in your community, consider positioning yourself as a resource for educating your amenities and attractions about GBP. One idea could be to hold a semi-regular workshop on GBP set up and optimization. It's a win-win; your stakeholders enjoy the benefits of being served up to searchers near and far while your area becomes more attractive to those seeking a destination.
Don't Miss This Opportunity
A Google Business Profile is an opportunity for your amenities and attractions to extend their online presence, gaining more visitors for your area and supporting local tourism. Spread the word about building, claiming, and optimizing GBP listings to grow online and in-person traffic in your community's amenities. Initiate conversations and empower your local stakeholders – grow their businesses and attract new audiences to your area with a comprehensive Google Business Profile strategy.
Smart Resources
We love sharing knowledge that empowers people to be successful.
Help Articles
The
Pro

gressive

Mark

eter
These progressive marketing articles offer tactics and strategy inspiration for heritage tourism, economic development, destination marketing organizations and other industry segments working to make their communities better places to work and live.
When it comes to travel, your visitors want to feel understood. Destinations that can show empathy and understanding will gain their trust and loyalty.
With the Metaverse making tourism headlines everywhere, it's vital for rural DMOs and CVBs to know what this trend means for their destination.
It's important to make sure the first impression, and every touch-point in between, is one that's authentic for your DMO, CVB or cultural nonprofit. Your visitors want to know that your area is worth the visit, and that they can trust that you're marketing an experience that will match up to expectations.